:3 And I don't mean the poop.
Well, I'm done wiht the volunteering, and am at home watching Strange Foods with Andrew Zimmern. I love this show... xD I just had dinner of cerial and an apple~ I might want more later, but I'll do my best not to resist! o-o Unless it's chocolate. In which case it's just fine, I guess. Because chocolate doesn't make you fat, right...? .___.;; No. No, it doesn't. Anyway. Maybe I should get started with things.
I'll begin with the concert. I did my makeup and stuff for it, then I had a little while left so I took some pictures. xD I might as well put them up, right?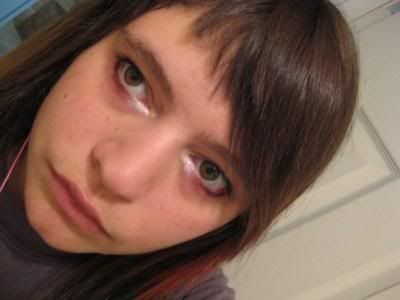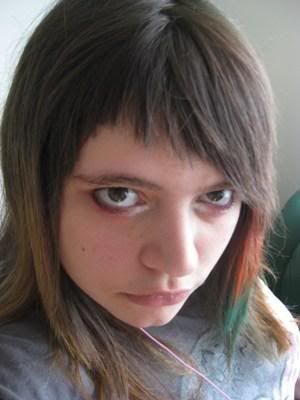 (and them me eating my dinner - a stick of string cheese xD)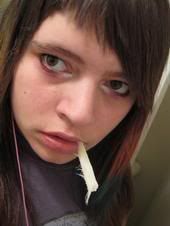 Allllso, I took a picture of the dog and the cat, because I liked their position xD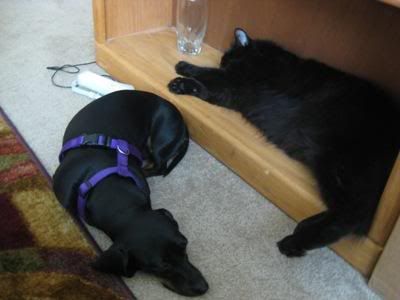 I think I've gotten not terrible at putting on eyeliner a little bit 8D Anyway, Christi and I went to the VAMPS concert together and met up with SiSeN and some of her friends that I don't know... Oh, and Eunice! Not the one from my PE class, though; I would have punched her in the face. Dx In any case, they saved a spot in line for us, and we got in pretty quickly. At that point we sort of split up; Christi and I went up near the middle-front, and they went to the left-front. But, we weren't DIRECTLY in the front, there were a few rows of people in front of us. /:
It took about fourty minutes just standing there and talking and sweating before the concert started, and when it did I was expecting a bunch of crazed Hyde fans pushing forward to get anywhere near him, but no. Even though it started with SEX BLOOD ROCK 'NROLL, people were just sort of standing there and bobbing their heads... It picked up a couple times during the concert, but the croud really wasn't all that intense xD I was able to push my way all the way to the very front without really even pushing. But, there was this one girl behind me that was REALLY into it, so I ended up giving my spot to her.
All in all, it wasn't the best live, but it was fun. Hyde and KAZ were pretty good, but the support bassist was THE BEST. He was ugly as all fuck, but he was great. I managed to touch him and Hyde's poodle, as well as his bass. :3 It was fun, but whenever Hyde attempted to be sexy (mostly by sticking his middle finger in his mouth or sticking his tongue out), he usually just looked funny or stupid. xD To me at least. And he kept complaining about how hot it was and stuff; talked about how he liked it in Portland with all the little shops. I kinda think that was BS though, seeing as how he'd been here less than a day. Apparently it was long enough for KAZ to get a manicure though. xDDD Which was a TOTALLY AWESOME idea to do right before playing guitar live. :'D
Well, after the live and everything, I was expecting a signing that they didn't have. Which was really disappointing, because I'd brought two different CDs for them to sign... Among other reasons. But, after we'd been basically kicked out, Christi and I went down to the Fred Meyers and got some soda. O: Then, we went back to the concert hall and waited for her dad to give us a ride back. While we were waiting, there were these two Japanese girls who were doing a homestay thing, I can only assume, because they didn't really know English. But, they came up to me and asked me to get a taxi for them... It was my first time getting a taxi, so it was a bit awkward at first, but I managed it!! We were picked up before the taxi came, though... I hope that they managed to get it. Dx
That was the end of the concert experience. When I got home I was feeling all sick and headachy D: I think it was a mix between dehydration and LOUD LOUD LOUD music... So I went to bed pretty soon afterward.
The next day, or rather today, was boring. I didn't really do much, except that I did my volunteer work. Which was surprisingly fun! I was just making calls to people in Eugene, but the four other people were pretty cool, and we made good time. I was the youngest one there... xDD It really wasn't that interesting, mostly just me leaving a lot of messages, except there was this one time I was hung up on before I even got to say a word!! xD It was really funny.
When I was on my way back on the max, though, was when it started getting interesting. I was sitting there, listening to D'ERLANGER and trying to mind my own business when these two ladies get on. One was American, and you could tell just from looking at her somehow that she was super-religious(I found out later she taught praise dance or something...), and one spoke in a THICK Japanese accent. So I had to kinda listen in to what they were saying... 8D;;
Anyway, after a little bit of texting Christi and asking her if I should say something (because I wanted to practice Japanese or whatever... xD That was my excuse), I decided to say hi. Except it was more of a "....8D HI YOU'RE JAPANESE, RIGHT??"
Yeah. :3 I'm pretty EFFing smooth, right~?
So we started talking, and she was really interesting, actually. Her name was Eri, she never gave us her last name. She was born in China, but then moved to Japan... Because of that, though, she says she never liked Japanese food xD But loved Chinese. Apparently Portland/Beaverton has mediocre Chinese food though, so... I guess it's a good town? I know a really good one, I think. It's called Good Taste Noodle Shop... AND IT'S AMAZING. OMFG. I'VE ONLY WENT THERE ONCE, AND IT'S THE BEST CHINESE I'VE EVER HAD IN MY LIFE.
SOOOO. We talked about different things, she brough up how she feels she needs to excersize more because she's been eating a lot of American pizza. Which surprised me a lot. Because every other Japanese person I'd met hasn't liked American pizza; she was the very first one. She went on to say, though, that she wanted to join a gym, but was really surprised when I told her it was expensive... xD She just wanted to use it for the pool, so I gave her my number and told her that she could use the pool over by our townhouses since it's free. I hope I get a call from her~!! It would be great to practice my Japanese more. 8D I would have done it a bit more while I was with her on the train, I think, but it's rude when there's another person that doesn't understand, isn't it...? Plus, she was pretty much fluent in English. Which is shocking. Because she's apparently only been learning for six weeks.
So when I told her that I'd been learning for three years, naturally she thought that it meant I was good enough to read a Japanese newspaper.
HA.
HAHAHAHA.
No. .___. Not even close.
It was fun talking to her, though... :3 Then, when I got home, I had dinner and started to write this and watch TV and talk on the phone and somehow this ended up taking three hours to type.... Somehow. o.o
And it's so hot here. Dx I'm like a continuous fountain of sweat at the moment.
Aaaaaand, with that pleasant fact, I end this long-ass entry~ 8D